Transform the Life
of Your Special Needs Child
Physiotherapy, Feldenkrais Method® & Anat Baniel Method for ChildrenSM
Welcome to a World of
Infinite Possibilities!
Hi! My name is Judy Cheng, and I am the founder of Move to Learn Therapy. As a parent myself I truly understand, you'll do whatever it takes to help your special needs child move forward in their development.
The Feldenkrais Method® and Anat Baniel Method for ChildrenSM are unconventional and operate from an understanding very different from traditional therapies.
It's all about 'movement' and the learning and confidence that develops from it.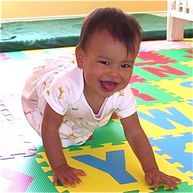 Zoe, my daughter,
at one year old
Let me ask you a few questions:
Do you ever wonder why, after countless hours of therapy, your child isn't progressing faster?
Does your child become upset or cry during their therapy sessions, despite the therapist's best intentions?
Do you sometimes feel uneasy carrying out the home programs your child's therapist prescribed?
Do you enjoy taking part in your child's therapy process?
Do you feel unsettled doing what everyone else says that you should be doing, versus what your child actually wants to do?
By igniting your child's curiosity and engaging them physically, emotionally and cognitively through gentle – and powerful – approaches, your child has the potential to learn and discover movement on their own. And yes, have fun at the same time. As you become more engaged with your child's progress and in actively supporting their development, your relationship and trust with your child will deepen.
With over 25 years experience practicing physiotherapy in Hong Kong and now in Canada, I've integrated the Feldenkrais Method® and Anat Baniel Method into my work with children.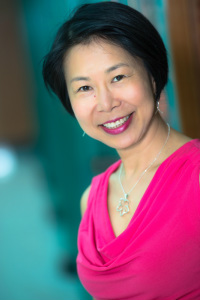 Judy Cheng, founder of Move to learn Therapy
And it truly can be 'magical' –
both for you and for your child.
The brain never loses its ability to develop, change and "rewire" itself to meet the physical needs and challenges life brings, whatever those challenges are. We call this remarkable facility "neuroplasticity".
"Movement is Life.
Without Movement,
Life is Unthinkable."
Dr. Moshe Feldenkrais
Both the Anat Baniel Method for ChildrenSM and Feldenkrais Method® use a movement-based approach for learning. Through very gentle, directed and specific touch, new messages are sent to the brain, which quickly (and sometimes instantly):
Ignite your child's curiosity
Turn on your child's natural learning switch
Form new movement connections
Help them to move beyond their current physical limitations
Support your child to explore, evolve and develop on their own
In the process, it creates the many possible neurological pathways that will provide the brain with new movement possibilities. This is especially potent for children with special needs. It provides them with sensory motor experiences that will permit their body to feel movement and control in a way they are not able to achieve on their own. This natural approach offers the child the chance to realize its own abilities. The functional improvement made through this process often seems 'miraculous'!
Explore the possibilities to support your child's potential.